'Twilight' definitely opened doors for him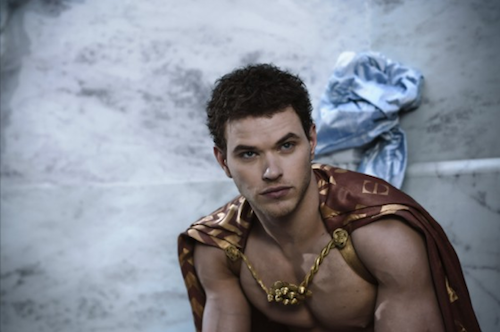 ComingSoon.Net interviewed Kellan Lutz on the set of his latest film,
'Immortals.'
  Lutz portrays Poseidon in this epic mythological fantasy.
An excerpt:
Q: Can you tell us about the casting process and why you wanted to be cast?

Lutz: I read the script of this a while ago and I loved it, fell in love with it. At first auditioned for Ares, which I loved... they liked what I did, but they viewed Ares as taller, skinnier and more youthful, so I was really bummed because they didn't really release all the characters for this movie and then I was like, 'Okay, how about young Zeus?' But then they had rumored that Alex Skarsgård and his father were going to do young Zeus and older Zeus, so I was just really bummed. I wanted to play someone in this movie. I love mythology, grew up loving it. I'm a middle kid, big family, that's the thing you did in the farm country. [Laughs] I lived in Iowa, I loved mythology. I don't know, we're like that. But I also love Poseidon and I'm a Pieces, March 15th is my birthday, I love to swim, I competed in swimming, I swim in my backyard as much as I can when I'm back home and again, I never saw the role of Poseidon in here. So then they called back saying that I couldn't do young Zeus and then they offered me Poseidon and I'm like, "What? Where's Poseidon? Yeah! For sure!"

Q: Do you see this movie as a step up for you or a challenge to get out of "The Twilight Saga"?

Lutz: I'm very blessed with "The Saga" because I am a character that, yeah, people ask why I don't have as many lines as everyone else. Well, I can't change the books so my character's more of a presence. Even in "Eclipse," I have more action and fighting scenes than I do dialogue. I can't help that. I'm very fortunate and blessed that it still pushes my career up to the level where I'm not the face of the books, so I'm still, like floating, so the next thing I do, like the other independent movies I do and I'm very choosy with like "The Killing Game" is my own type of underground "Gladiator"/Jason Bourne type of movie. That's what I want to do so being a part of these huge commercial movies like "Twilight" opens up doors so I can be the star of other movies and really show my acting chops, show and pick what I want to do as an actor kind of molded my career.
Read the rest on
ComingSoon.net
.