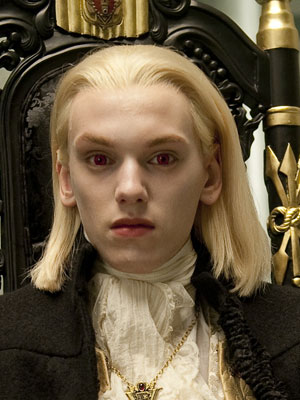 Bella sugar has an exclusive interview with The Twilight Saga: New Moon and Eclipse make-up artist Leslie Graham
It's been a big few years for makeup artist Leslie Graham. Not only has she made up some of the biggest names in the biz (Tyra Banks and Jamie-Lee Curtis to name a few) she was also responsible for the makeup looks for the vampires on The Twilight Saga: New Moon and Eclipse, Sucker Punch andTron: Legacy  with pal and mentor Rosalina Da Silva.
"BellaSugar: You created some of the looks for the vampires in New Moon and Eclipse — who did you look after and what were the key products you used to create their looks?

Leslie Graham: For New Moon I was brought in to be a personal makeup artist for actor Jamie Campbell Bower, who played the role of Caius (one of the leaders of the Voluturi). For Eclipse I did the makeup for all of the Wolfpack [Alex Meraz, Julia Jones and Chaske Spencer], Jodelle Ferland and some of the newborn vampires. On set I would take care of Dakota and the other Volturi. We did a lot of air-brushing using MAC Micronized Airbrushed Formula to give the "onion" skin tone. It has a little silicone in it, which works to keep the makeup in place as we were often working in the woods and in the rain — vampires in the rain can be quite difficult!"

 

Bella: One of the key looks in the Twilight films is the perfect pale skin — how can we recreate this look without appearing washed out?

LG: I would say go with a colour two to three shades lighter than your own skin tone and apply it with a wide and flat synthetic foundation brush. Make sure you go right down your neck and over your ears and don't make it too white or too grey — it shouldn't be "death" makeup, it should be just enough to lighten your own skin tone. Try Revlon Colorstay in a buff, nude or ivory tone, again depending on your skin.
See more on Bella Sugar