I came into the Twilight fandom late, right around the time the movie was released. As soon as my college semester let out, I got the books and started reading, and was hooked. I have since bought a small fortune's worth of merchandise. I went and saw the movie on New Year's Eve (twice) and saw it three other times in the theater. When I heard that there were going to be midnight release parties, I was so excited, but I had to work until 11:30 that night, so I just planned on pre-ordering the movie from Borders (exclusive edition, of course). However, I soon got notice that any DVD pre-ordered after February 4 (I ordered mine and a friend's on the 9th) might not get the movie until the middle of April. This upset me. I HAD to have the movie that night. So, I decided finally that I would go to the Borders release party. Trouble was, the closest Borders was about an hour and fifteen minute drive. Work would be in the way. I decided I would call in sick (something I never do, so this was a big deal for me). I would get the exclusive edition that night and just cancel my online order. No biggie.
I called Borders a few days before the party and asked when they would be handing out passes to get the movie. 10:00 am. Ok. So on Friday, I woke up at 7:00 am and left my apartment at 8:30 am and drove to Louisville to get my pass. I come to find out that they have received only a few exclusive editions and that you had to have been on the list to get one. No where on the website or their ads, as far as I can see, does it mention having to have it pre-reserved. My understanding was that you show up and get your pass that day, and the earlier you get there, the earlier you get your movie. And why would they not give more than a handful of exclusive editions to the stores? They saw how popular it was online, so they must have known more would want it in the stores. Anyway, I decided that I would just buy the 2-disc edition that night (I'd gone to all the trouble of clearing my day, I was not going to miss the movie) and have two copies of the movie. (Well, three actually. I ordered the Target 3-disc edition, too. Gotta get all that extra footage! LOL).
So here's some pics of me that morning gearing up for the party at 10 am.
The store
My Hot Topic "I Run With Vampires - Team Edward" t-shirt
My Twilight/Team Edward bracelets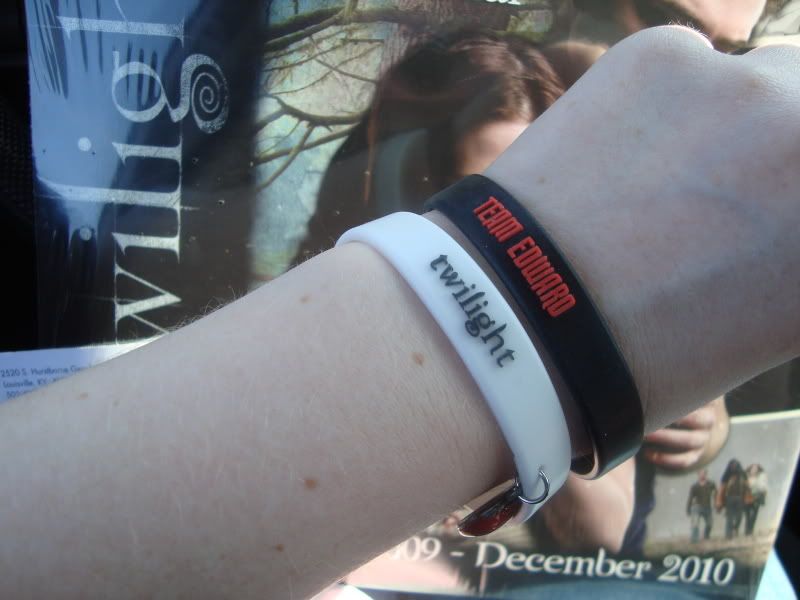 My Cullen crest wristband
The calendar I bought, along with the card showing I could be #8 to buy the DVD!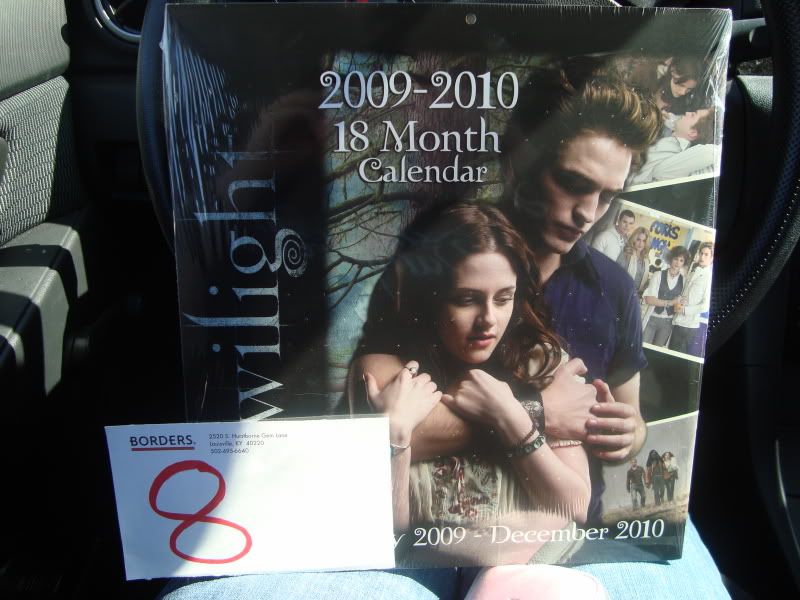 I drive back to my home to pick up my friend who I had invited to go. Now, I love my friend. She's read the books, seen the movie. But that's the extent. She didn't even really like the movie. In hindsight, I wish I hadn't brought her, though. She kinda killed my Twi-high. But my best friend (who's not AS obsessed as me, but at least lets me do as I please without making fun) was out of town, and I wanted to share the day with somebody. We drove BACK to Louisville and messed around there for about 5 hours until we went back to Borders, around 9:15. There were a few Twilighters there, so we just looked around the store at some of the merchandise that they had. I got a few things (the calendar, the stickers, and magnets) and waited for the party to begin. And waited. It was after 10, and nothing had happened. Finally, they sort of announced that the events were about to begin. They had a little scavenger hunt (which I took and looked at and answered some of the questions. If my friend hadn't been there to kill my excitement (because at this point, she's tired and bored) I probably would have done it. I think there was a news station doing interviews outside, which I would have LOVED to do. But, my luck, it would end up ON the news, and someone from my work would see it and it would be revealed that I was in fact not sick at all. LOL. So I restrained myself from that. They also did trivia, but I didn't really take part in it. I felt very awkward, because there were not a whole lot of people my age. It was a bunch of tweens and teenagers, screaming. I love my fellow Twilight fans, I really do. It's the excitement that makes this whole world so wonderful. But I couldn't deal with all of that for long periods of time. So I just sort of watched, and waited for something else. Which didn't come. No music, no refreshments (except at the over-priced coffee counter). No real party at all. By 11 pm, I just wanted my DVD and wanted to drive home. They did announce the winners of the Award ballots, which was fun. The host made the evening, though. I would have been completely bored if it weren't for him acting like a a teenage fangirl himself. He was hilarious. Anyway, here are some more pics:
The store, at night
Me with my stickers and magnets, next to a cool pile of Breaking Dawn books
Me with my DVD pass and my Twilight Awards Ballot
Scavenger hunt and trivia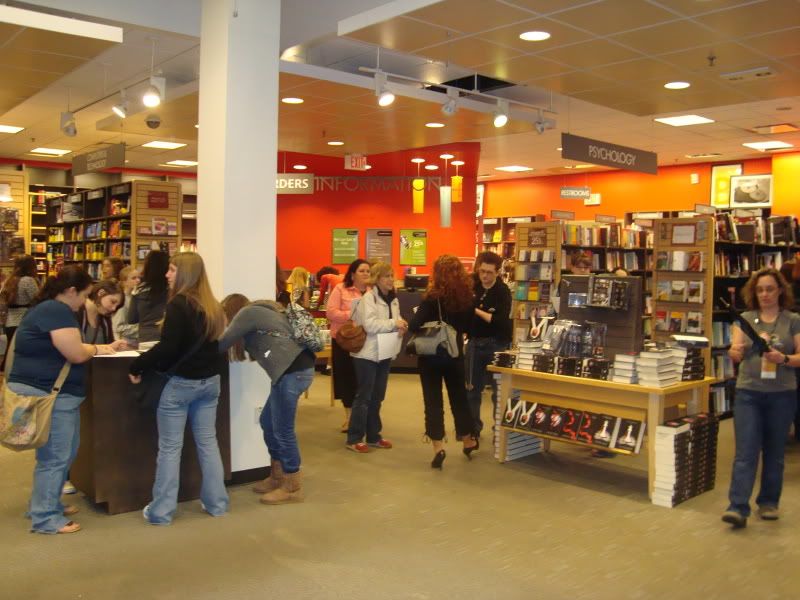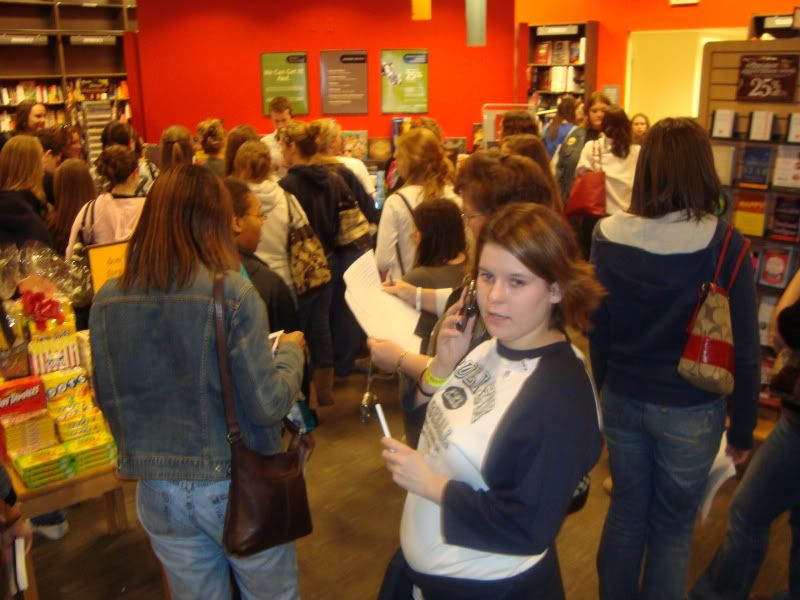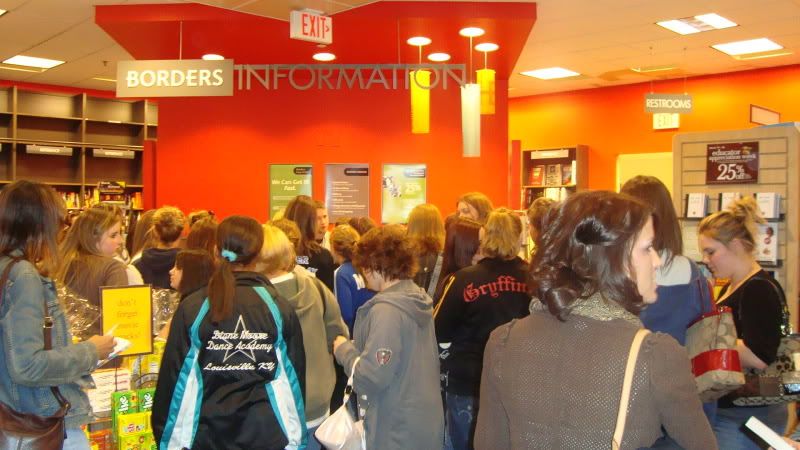 The hilarious and gracious host
The pile of DVDs going behind the counter, ready to be sold!
We lined up close to midnight (in order of our numbers, and I was #8), and we FINALLY got to get the DVD. Here's a pic of me with it:
I drove the hour and a half home to take my friend home, then back to my apartment. At this point, it's after 2 am and while I would have loved to watch the DVD, I wouldn't be able to stay awake. So I went to bed and would watch it the next day. I'm glad I didn't open it, though, because in my email today Borders has informed me that my DVD has shipped. YAY exclusive edition!!!! So, after much consideration, I am going to return the DVD I bought last night and just wait a few more days for mine to arrive. Two copies I can justify buying. Three I can't. LOL. Anyway, sorry this is so long. I like to talk. A lot. LOL. Hope everyone enjoys their movie and had at least a somewhat enjoyable evening and I can't wait to see pics and hear stories! I hope that once New Moon comes out, stores will be better prepared for fans of all ages!!!