@CourtJustice Rob Pattinson looking extra dashing today for the #BDParis fan event wearing @DolceGabbana! Ashley Greene in #allblackeverything Givenchy head-to-toe.
 
HQs via RPLife and pattinsonlife 
October 23, 2011 - Breaking Dawn Fan Event at the Gaumont Opéra Capucines. 6-7PM Paris time.
Watch Video HERE and HERE
Videos  
Q and A

Tweets :
@LoveTheStew : Rob: "Twilight changed my life". He can't stop drinking water lol :p ! He tried to translate himself, so funny. He doesn't want to sing us a song lol. "Kristen is incredibly lucky to have you Rob" he smiled cute!Delivering the baby was the most funny thing. "They love us" Rob to Ashley about us lol.          
@SomeLostBliss : One girl mentioned kristen. Said kristen was a very lucky girl before asking her question.
@georgiedavey: ROB SPOKE FRENCH. What is my life!?! I'm flailingggg.
@LoveInTuscany: Both very generous. Even wrote autographs when coming out the back door. Looked stunning!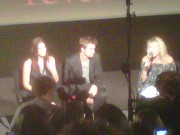 via RPLife