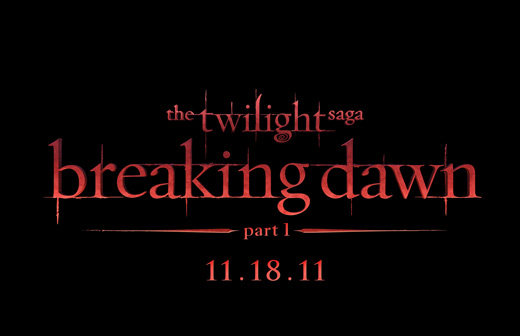 I know it seems strange to think about promotion for a movie that isn't even finished filming yet.  But MTV's recent call to arms about questions for Rob got me excited.  Besides, the Twilight Saga has always been a different animal and it deserves some serious forethought to wrap this thing up right.  As we all know, the actors have other projects to promote in the mean time, and Breaking Dawn questions are inevitable. So upon further reflection here is what I am most anticipating about the Breaking Dawn Press Tours:
*Disclaimer* I was feeling a bit snarky when I wrote this so sarcasm abounds.
1. The Pairings
The pairing/grouping of actors for interviews or appearances has always been an issue for fans. We were spoiled with the first movie. Rob & Kristen were everywhere together: interviews, mall appearances, book signings & of course MTV's Twilight Tuesdays. The PR machine had us: hook, line, & sinker. Hungry for more we couldn't wait for the next installment. Enter New Moon controversy: Summit's attempt to focus the fans on the Bella/Jacob aspect while also trying to keep Rob & Kristen apart completely backfired & produced some of the most epic eye****ing in history & left poor Taylor looking like a hapless third wheel destined to be cropped out of half the Robsten fanmade videos. With Eclipse, we saw a lot of solo interviews and some good events with the Twifecta. But Rob was busy with WFE and that left Kristen & Taylor to traverse the globe as a duo. I'm too much of a WFE fangirl to complain so I'll say this: While we "really missed Rob", Taylor & Kristen gave some of the best, most relaxed interviews to date when they were promoting abroad.( My personal favs: Australia, Rome & Stockholm). Looking forward, I am hopeful for Breaking Dawn. In my opinion the first Breaking Dawn's press pairings must be all Rob & Kristen . This installment is Edward & Bella all the way & should be promoted as such. The wedding, the honeymoon, the birth will all be THE topics to cover & Rob & Kristen should be paired together as much as possible without anyone to protect or deflect. Summit can reunite the Big 3 for BD2 because that's when Taylor will need Rob & Kristen for support. Which brings me to my most adament opinion: Taylor should not be paired with Mackenzie Foy in any press events or interviews.  We know the true fans get the whole imprinting thing(sortof) but let's not leave any wiggle room for some jerk reporter whose never read the book to ask inappropriate questions to a 10yr old & Taylor. I like the guy and I think this topic more than any other is going to need scripted, well-rehearsed answers.
My choice of pairings:
BD1: Rob/Kristen, Taylor/Nikki or Taylor/Booboo/Julia
BD2: Rob/Kristen/Taylor, Nikki/Mackenzie or Peter/Elizabeth/Nikki/Mackenzie (maybe 1 or 2 Rob/Kristen/MacKenzie interviews but not all. I don't want them to feel so guarded around her that we don't get juicy answers)
2. The Questions
Lately, it seems to me that anyone with a youtube account can get press credentials & score a few minutes with the biggest stars on the red carpet or at press junkets. While this trend has spawned some good careers (My personal fave--Jakethemovieguy--dreamy) it does have me scratching my head sometimes wondering--you have 2 minutes with Rob, Kristen, Taylor, and that is what you chose to ask?
At this point, I think it might be easiest to list the questions I never want to hear asked again:
"Will you marry me?" No, crazy fangirls, Rob nor Taylor will marry you. Don't waste our time.
"What's it like to kiss Rob?" Just once I would love for Kristen to answer "You'll never know, *itch"
"Team Edward or Team Jacob?" That was so 2 movies ago. Moving on.
Anything about Taylor's abs--Been there, done that, ate some meat patties. Next....
"Did you know Twilight would be this big when you started?" Absolutely. Their big money actually comes from successfully betting the Box Office stats with their bookies.
And please, please stop trying to think of creative ways to ask if Rob & Kristen are a couple. The whole world knows they are and they choose to keep it private.  If they didn't spill to Oprah, they certainly aren't going to give Susie Q from the BlogsRUs the exclusive. 
Okay, enough with the sarcasm. Here are some questions I would like to actually hear the answers to:
Rob/Kristen: Because it was so close to the end of filming, did you find it emotional to film the wedding?
Taylor: How did you change your performance once Jacob claimed his birthright as Alpha leader of a pack?
Rob/Kristen: How did you establish differences between the honeymoon love scenes & the vampire love scenes?
Rob: Did you find it difficult to portray Edward as happy & content?
Rob/Kristen/Taylor: What were your emotions when they said "That's a Wrap"?
Kristen: Are the vampire contacts as bad as everyone's been saying?
Kristen: How did Bella becoming a vampire change how you played her?
Rob: What's it like kissing a vampire? (Sorry I just couldn't resist turning the tables)
3. The Events (From the perspective of someone who's never attended any)
 ComicCon vs TwiCon
As much as I've loved every minute of the Comic Con footage over the years, I have to say I prefer the Eclipse Twilight convention.  While I'm sure the only reason the Eclipse convention was attended was because it was a summer release & ComicCon didn't make sense,  I really hope they do another Twicon for the Breaking Dawn movies. If for no other reason than to quiet the fanboys who whine that the Twilight fans hijack their Comic con playground.  Besides, these two movies are the grande finale of the epic saga and a convention solely devoted to everything Twilight certainly seems appropriate. My only request: live stream the fan event please. I'm sure it will not affect attendance and maybe we can get some footage with audio that we can actually hear, rather than relying on videos taken amidst the ear-splitting screaming of the crowd.
The Premieres
It seems Summit finally got it right with the Eclipse premiere. Tent city seemed to go off without a hitch & cast members made an appearance to show their appreciation. The red(black) carpet event was streamed live by a number of outlets so we could all experience the pagentry up close, even while sitting at home in our sweatpants, snacking on popcorn while the kids watch Sesame Street in the other room (or so I'm told).  So really the only thing to say is "Again, please". But with a bigger interview area for our favorite fanboy, MTV's Josh Horowitz. IMO he should be bumped up to "Ryan Seacrest at the Oscars" status for every Twilight event.
MTV Movie Awards
It's strange to think that Breaking Dawn Part 2 will be up for the 2013 MTV movie awards. The film will have been wrapped for over 2 years and the stars will all have moved on to other projects. Yes, by June of 2013, fans & stars alike will have already said their goodbyes to the film & all its promotion. But, this is where the fans must buckle down & not lose focus. This franchise cannot accept anything less than a full sweep of the Best Kiss category every year it is eligible. (And other categories too) The bar has been set & we must continue to meet the challenge!
4. The Behind the Camera Crew
Okay I have to admit it's hard to compete with Chatty Cathy Hardwicke & TwiTwitterKing Chris Weitz, but IMO David Slade came across as surly, grumpy, and less than thrilled to engage the fans or do much Eclipse promotion at all. And I tried not to take it personally, but the whole "I don't do DVD commentaries" seemed a little insulting, like he couldn't lower himself to explain the filming process to us lowly, nonfilm graduate types which is ironic because in the few Eclipse interviews he did, David was all about the technical stuff. Regardless, one good thing came out of David's "low profile": I discovered the joy that is producer, Wyck Godfrey. His insight on the Eclipse commentary & BTS extras was funny & informative. Wyck & Stephenie's DVD commentary reminded me of a family reunion where the relatives sit around & retell stories & rehash disputes. I have high hopes for the Breaking Dawn DVD commentaries and would love to hear Bill Condon, Wyck, &  now credited producer, Stephenie Meyer join together to give us a glimpse into the BD filming (Of course, a Rob, Kristen, Taylor edition too please. I can only imagine what R/K will say during the love scenes).
5. The Sendoff
When the final credits roll on Breaking Dawn Part 2 a void will be left that many movies will try to fill. It will be difficult to find chemistry like these actors have brought to the source material. The Twilight family of actors are a rarity in Hollywood, and Rob & Kristen are like lightning in a bottle for leading roles. (Did you know that Richard Gere & Debra Winger hated each other while filming "An Officer & a Gentleman"?) While I doubt another SuperNova like Twilight is on the horizon, I hold out hope that the actors that made Twilight famous (& vice versa) will continue to amaze & entertain us for years to come. To help ease the loss of our beloved franchise, I hope Summit rewards its fans with an incredible souvenir--A Super Deluxe Complete DVD Boxed Set with tons of new stuff we've never seen. (Because let's face it, most diehard fans already have all of the movies on DVD.)
Here's what I hope the Complete Boxed Set will include:
A documentary about the final filming & the cast saying goodbye. *tears please*
Basically every scene that didn't make it to the screen or DVD extras.
Bloopers: we want bloopers, pranks & jokes!
Cast interviews: Tell us what you thought of your character's journey & what you'll miss most.
Finally my biggest request: I would love it if Rob, Kristen, & Taylor would revisit New Moon and do a DVD commentary to make the set complete (assuming they do ones for both BDs)
My biggest, most unrealistic wish: The infamous audition tape! We can handle it!!!
So that's my checklist for the Breaking Dawn Press Tours. Agree, disagree? Share the things that you are most anticipating.
You can check out my other BD: Anticipation posts starting here.