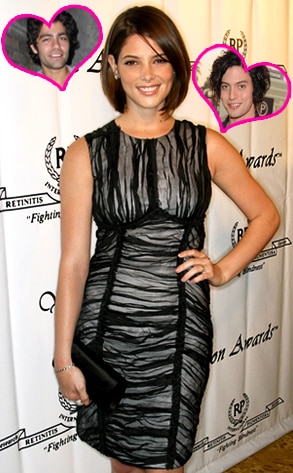 Note From Ted: Our very own Taryn Ryder and Becky Bain are bravely out there battling the dating world, and they've started combing the H'wood scene for celeb insight on how to best go about this romance thing with maybe a little more dating savvy. For her debut installment, Taryn sidled up to that crafty Ashley Green for some man pointers. Fun stuff. Check it out:
Dear Awful Truth:
I'm a twentysomething girl living in New York and have had the toughest time meeting a guy. It's really hard telling the genuine ones from the ones who are just trying to take me home. I have a dinner date tonight, so I'm dying to know: What signs do you think I should look out for that indicate he's a keeper? What do you all think is a deal breaker, and deal sealer, from experience?
—Sleepless in the City
And Taryn's answer is...
Dear Sleepless:
Let me tell you, from the perspective of a twentysomething in L.A., it's just as hard over here sorting through the sea of available and not-so-available men. Seriously, on one date it took me three rounds of drinks with the guy to get out of him that he was currently in a serious two-year relationship. Ah, the power of vodka.
Even though you don't want a dude who's attached at the moment, I think it's important a guy has prior dating experience. Once you get to a certain age, you do not want to be the first girl your guy has quasi-seriously dated. It's no fun to be the guinea relaysh, trust me.
I passed your question along to Twilight star and experienced hunk handler Ashley Greene. Here's what she has to say:
"Tell her I think a deal sealer is when you're able to sit down at a dinner with someone and have an intellectual conversation—and there's no awkward moment! You know, when you're sitting there and nobody speaks, and you're just trying to conjure up things to say. That's the worst. And of course, another big one is if he can make you laugh—that's a plus."
What do you think, Awful Truth readers? Any more advice to give?
Got a dating question you want answered by the stars? Email the Awful Truth and you might see it here! No topic is off-limits!
Source