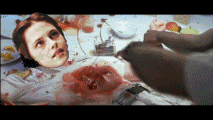 Mark Reads 'Breaking Dawn': Chapter 15
In the fifteenth chapter of Breaking Dawn, nothing happens. Again. For pages. In fact, the chapter title alone warns of the boredom to come. But it's then made clear that this is just the calm before the storm. And the storm, in this case, is the most ridiculous display of absurdity and psychotic wankery any of us will have ever seen. Intrigued? Then it's time for Mark to read Breaking Dawn.
CHAPTER 15: TICK TOCK TICK TOCK TICK TOCK
Real chapter title, guys. This book was published in the 21st century.
Most of my notes for chapter 15 consist of a single, incomplete phrase: "what is this i don't even" That's it. The chapter is, just like the last one, painfully boring and static. Nothing happens. People stand around. Literally. Occasionally they talk to each other and everything is either a piece of foreshadowing or is dripping with condescension.
Truth is, I'm tired. I'm so tired of this b******* and of having to repeat myself every day about how utterly worthless that all is. (By the logic, I also worry if all of you, my fellow readers, are just as tired and bored with me having to do just that.) I constantly wonder how on earth this crap was ever allowed to exist past an editor's desk, just on the writing flaws alone. A lot of garbage and s*** gets published, but this is the first experience I've ever had with a piece of popular literature that is just flat out terrible. At the very least, disposable fiction by people like Dan Brown and James Patterson can be said to be entertaining on a base level. At least there's a formula that works and can at least provide stupid, mindless entertainment.
And by the halfway mark of this chapter's 20 pages, I realize that I can't even enjoy this book as sugary pop. There's nothing here. There's nothing interesting or compelling or even trashy enough to be a superficial escape.
And then everything changes and I wish this book went back to being just boring.
It starts with Jacob's incredibly misogynistic jokes towards Rosalie, his "Blondie."
"Hey, do you know what you call a blonde with a brain?" I asked, and then continued in the same breath, "a golden retriever."
It doesn't end there. Somehow, Meyer thinks it's perfectly acceptable or timely to include decades-old blonde jokes in a book published in 2008. I…just don't even know what to say anymore.
But then Jacob starts quizzing Edward about Bella's pregnancy. And I realize I have had it easy so far. Breaking Dawn is about to get worse. A whole lot worse.
"From what little research we've been able to do, it would appear the creatures use their own teeth to escape from the womb," he whispered.
WHAT.
No, you cannot be serious. This cannot be real. This cannot be a plot line that someone would pursue who doesn't watch R-rated movies because she thinks they're gross.
what the f*** guys what the f***
But still. F****** unprepared for what I'm about to type.
Rosalie then lectures Jacob about how well prepared they are for Bella's pregnancy, given that they have more knowledge than anyone in the history of vampires about vampire birth. Because of this, there is a high probability that they'll be able to not only deliver the child, but do so without killing Bella in the process.
What's Jacob's response to this?
Allow me, I suggested.
He paused, raising one eyebrow.
Silently, I lifted my doggy bowl off the floor. Then, with a quick, powerful flip on my wrist, I threw it into the back of Blondie's head so hard that--with an earsplitting bang--it smashed flat before it ricocheted across the room and snapped the round top piece off the thick newel post at the foot of the stairs.
Bella twitched but didn't wake up.
"Dumb blonde," I muttered.
LITERALLY. LITERALLY, GUYS. THIS IS PUBLISHED IN F****** 2008. THIS BOOK MAKES IT COMEDY TO PHYSICALLY HARM BLONDE WOMEN BECAUSE THEY ARE DUMB BECAUSE OF THE COLOR OF THEIR HAIR.
WHAT THE F***
WHAT THE F***
WHAT THE F***
WHAT THE F***
WHAT THE F***
"I'm not going to forget this, dog," Rosalie hissed.
"S'not so hard to erase a blonde's memory," I countered. "Just blow in her ear."
L;ADFSADFSLJKAHJDSF;SD AAAARRRRRRRRGGGGGGGHHHHH WHAT THE FLYING F*** IN HEAVEN SOMEONE PLEASE STOP THIS WHAT THE F*** THIS IS SO HORRIBLE.
Ready for some annoying foreshadowing to top off this insanity?
She didn't pick up on my mood. "You know, he [Bella's child] reminds me of you, Jake," she said--affectionate tone--still gasping.
LET ME GUESS. IT'S BECAUSE JACOB IS ATTACHED TO HER FETUS BECAUSE HE WILL IMPRINT ON IT. whyyyyyyyyyyyyyyyyyy
"Well, I wonder if that means that we have an answer. If the similarities are gene-deep."
"Twenty-four pairs," Edward muttered under his breath.
"You don't know that."
"No. But it's interesting to speculate," Carlisle said in a soothing voice.
This isn't speculation. This is Stephenie Meyer spoiling her own book AGAIN through foreshadowing.
RRRRRRRAAAAAAAAAARRRRRRRGGGGGGGGHHHHHHHHHHH THIS IS ONLY GOING TO GET WORSE bawwwww.
HERE's the stupid source