Have the Twilight Girlfights Gotten Too Personal?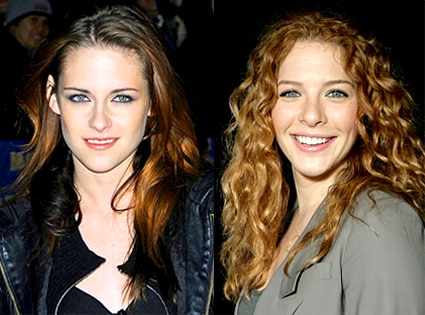 With all of the snarkyass crap being bitched about Rachelle Lefevre by her former studio employers, we weren't surprised lots of rumors were starting to leak out over why she was really given the boot. The latest? That onscreen nemesis Kristen Stewart had a helping hand in b****-slapping Rachelle out of the Twilight films.

If you remember back in early May, Ashley Greene dished to us how there was a slight divide in the girl groups on the set (before Nikki Reed was cast out of K.Stew's deep inner circle, that is).

So what gives? Did the passive-aggressive cattiness get personal? Deep Twi gives us the lowdown:

"I haven't heard anything like that."

Even though Kristen has lots of power over what goes down regarding Twilight filming, our insiders tell us there is no bad blood between Rachelle and any of the girls.

"Not everyone has to be great friends. [Rachelle] got along with everyone and was just closer to some than others—there were no on-set issues with her."

Sure doesn't sound like what Summit's officially b*******, now does it? Regardless, scratch girl scratching as the reason for Lefevre's departure. Happy to hear it, too, 'cause we think she's a supersweet gal. We feel for the babe!

Check out the video from one of the Twilight screenings down at Comic-Con. When Rach starts talking about how her character changes in the next few movies, you can tell she has no idea the firing is coming.

Oh, and while you're viewing the vid, we'd love to point out a few things. See how Nikki Reed is trying extra hard to show everyone she and Kristen are still cool? When a fan asks if the cast has any tabloid rumors to clear up, Ms. Reed takes control saying: "Kristen and I love each other, not in a weird way...no, not in a weird way...My foot is in my mouth."

Uh, awkward much?

You know Kris was sinking down at first because she just couldn't look her adoring fans in the eye and say she and Robert Pattinson were just friends. Way to swoop in, Nik, maybe that was a bestie gesture? Doubtful since she totally slammed Kristen's beau calling Rob feminine looking. Jeez, now that she's dating a billion bucks, you'd think the Rob burns would stop (can't blame her—we'd be bitter too if Rob and his swanky hair dissed us).

But side note, seriously, what's up with Kristen's fidgeting? Are her bod's actions telling us what her mouth just can't right now: "Summit, I've had enough!"

That's what we think.
source