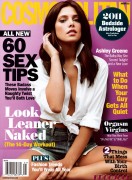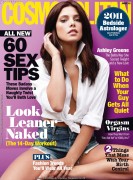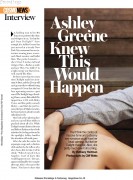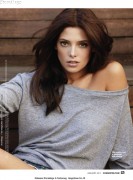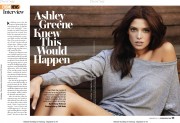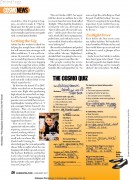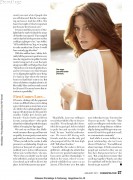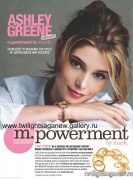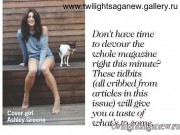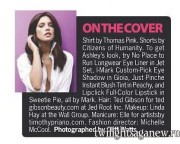 A balding man in his 40s leans over, points to the door, and whispers to us, "Is that the girl from Twilight?" Sure enough, it is. Ashley Greene has just arrived at a trendy New York City restaurant for our interview wearing jeans, a crew-neck black sweater, and ballet flats. The petite brunette --she's 5 feet 5 inches tall and whisper thin -- flashes a smile and says "Hey, I'm Ashley!" in a high-energy way that seems, well, exactly like Alice.
It's been more than two years since Twilight made her an instant A-Lister, and the 23-year-old can't go anywhere without being recognized. Given that she has four upcoming movies -- part one of The Twilight Saga: Breaking Dawn, a scary flick called The Apparition, LOL with Miley Cyrus, and the quirky comedy Butter -- and that she just became the face of Mark. cosmetics, her fame factor is about to reach ridiculous levels.
One look at her glowing face and you can tell that Ashley is psyched about all of it. While Twilight costars Kristen Stewart and Robert Pattinson have both admitted to feeling awkward in the spotlight, Ashley handles the attention with total grace.
After she asks the waiter for asparagus soup and a chicken club sandwich, she tells us why she's been able to take it all in stride. "When I moved to Los Angeles, I sort of knew this would happen to me," she says, again sounding like her vampire alter ego, Alice, who can see the future. "You have to have that mentality -- that it's going to happen -- in order to make it." That attitude gave her the guts to make the big move that would launch her career and eventually cause her to cross paths with a certain Jonas Brother.
(You'd think the combo of massive fame and a steamy new romance would have her head spinning. But like her Twilight character,, Alice, she pretty much saw it all coming.)
Getting The Gig
Ashley has her mother to thank for helping her morph from a kid with low self-esteem into a teenager with killer confidence. "I was a self-conscious 14-year-old, so my mom put me in modeling classes in Florida, where I grew up," she says, stopping to taste the soup that arrives within seconds. "I dabbled in it for a bit and was told if I grew taller I would be a great model. But that didn't happen. So I decided to try an acting class and instantly realized that it was what I wanted to do."
By the time she turned 17 in 2007, Ashley set on becoming a movie star. Right after graduating high school, she moved to Los Angeles all by herself. Surprisingly, her parents were cool with their not-yet-legal daughter running off to L.A. "I got a manager before I moved," she explains. "Plus, my mom had me when she was 16, so we are very close and can relate to each other. She's always supported my choices."
She moved into an apartment with two other aspiring actresses and started working within a year. She landed enough small roles on shows like Punk'd and Crossing Jordan to help pay the rent and possibly dinner bills on nights when she was hanging with fellow up-and-comers like Jackson Rathbone and Kellan Lutz (who would end up playing Jasper and Emmett in Twilight) and Jessica Szohr (who now plays Vanessa on Gossip Girl). Then in October 2007, her agent told her about an audition for a role in a movie based on some book called Twilight. "When I got the breakdown of what the role was, all it said was 'Alice Cullen, girl, 18 years old, vampire.' Ashley puts down her sandwich, which she's been eating in tiny polite bites, and widens her eyes. "I was terrified. I had no idea what they were looking for!"
She raced to a bookstore and picked up the novel. "I read it in a day and fell in love with it," she says. "Right then, I decided that I was going to do everything in my power to get the role." The people casting the movie thought she was perfect to play the fairylike Alice and signed her on. "As soon as I got the call telling me I had the part, I had this feeling," she says. "I knew it was going to be something important. I just couldn't have anticipated how huge it would really be for me."
Twilight Fever
Even before the first movie came out, Ashley had fans. Twi-hards dedicated countless of Websites to her, and fans would show up on set and wait for hours to catch a glimpse of her walking by.
Szohr loves that Ashley's sudden fame hasn't gone to her head. "I met her out by a pool in Los Angeles before she had hit it big, and we instantly clicked," she remembers. "In Hollywood, you meet a lot of people who are self-obsessed. But she was outgoing and sweet. And she still is. She hasn't lost sight of what's important just because she's famous now."
It wasn't until the premiere of Twilight that the starlet realized the scope of what she was a part of. "Fans camped out for days before the premiere so they could get a glimpse of us," says Ashley. "All I could think was, Yup, we're going to make another four. I knew I would have a steady gig after that."
(She stays graceful under pressure)
With the sudden fame, Ashley definitely felt the pressure to perform every single time she stepped out in public, but she insists being part of a cast that gets along incredibly well helped her deal. "All our lives were turned upside down, and we've become very close because we're all going through the same thing. I've had my days where the intense focus is so hard that I want to cry. But when celebrities complain about it, it's like really? Have you been under a rock for 20 years? Everyone knows this attention is possibility."
First Comes Love....
Of course, dealing with the paparazzi is twice as difficult when you're dating a guy who has as many fans as you do. Ashley's been photographed cozy-ing up with Joe Jonas for the past few months. Unlike Joe's former girlfriends --Taylor Swift and Demi Lovato, among others -- who spoke about their relationship with the singer, Ashley is keeping her lips zipped.
We can't say we blame her. Hollywood romances flare up and burn out so quickly, it seems pretty smart not to gush until you know it's a sure thing. "When you talk to the media, it adds pressure to the relationship. People see pictures or hear part of a quote, and suddenly you're in love with someone before you even like them," she says. "Then when you decide you do want to be with them, you have to worry that if you break up it will be all over the place. So it's better just to stay quite."
Thankfully, Lutz was willing to reveal what Ashley's like in her personal life."Even though she's beautiful, she's a guy's girl. Ash isn't afraid to poke fun and can take it right back," he says. "And she's adventurous. We went cliff diving with friends, and she was the only girl who jumped off the 50-foot-high cliff. Talk about fearless."
Sounds like she makes a kick-ass girlfriend...although she admits that she's not very good at balancing her busy career and her relationships. "I think in five years, when I've completely solidified my career as an actress, I'll be better at it. But right now, I often have to say, 'I'm sorry, but I have to work,'" she says. "That said, I am willing to work out the complications of a long-distance relationship by doing small things to stay connected. Even if it's a quick text or call, we communicate constantly."
And while it seems Ashley's in a great relationship, she isn't sure where it'll take her. "I'm indifferent about marriage. I think sometimes people get married so they can say they have that person forever," she says. "But a ring doesn't ensure that you'll stay together. Watch, now that I've said that I will be the first of my friends to get married!"
The Cosmo Quiz
Name: Ashley Greene
Nickname: Asher/ dad calls me Sugar Bear :)
I could never date a guy who...
My friends hated
The movie I can't stop watching is:
Breakfast at Tiffany's <3
The craziest thing a Twi-hard has ever said to me is..
Will you marry my husband!
Vampires are: Cold. Smart. Amazing. Stylish.
but werewolves are: Dogs :p
If I wasn't acting, I'd probably be:
Jobless
The hardest part about dating another celeb is:..
Fitting both our egos in one room....Kidding
In relationships, I tend to:
Give and take and smile a Lot
If I had to pick, I'd be on:
Team Alice!
My go-to first-date outfit is:
J Brand skinny jeans. T-shirt and black repetto flats
(Ashley loves her flats.)
Sources
ONTD
,
247Greene