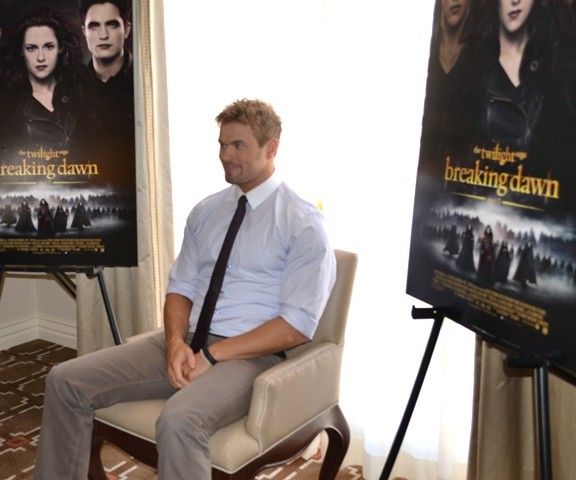 The cast of Twilight has been busy touring around the globe promoting the epic finale of the Twilight Saga, Breaking Dawn Part 2.Kellan Lutz, who portrays the tough and lovable Emmett Cullen in the franchise, stopped by Dallas yesterday, Thursday, Nov. 8, and Examiner had the chance to sit down with the star and discuss the anticipated film, Lutz's upcoming projects, crazy fan experiences, and more.
Q: How was it like shooting the arm-wrestling scene?
Lutz: For me and my character, I was very much looking forward to filming that scene with Bella – for Emmett to have that, to have his special scene! When I first read the book Breaking Dawn, I thought, 'please let this part make it!' And I got big, I didn't realize how big I looked…I mean, my arm was the size of my head! *laughs* It's funny because I wasn't even trying [to win], she'd [Kristen Stewart] be like 'are you trying?'
Q: Tell us about the dance sequence everyone is talking about.
Lutz: We choreographed 'Sweet Dreams' by the Eurythmics. I love dancing; Justin Timberlake was my guy, who I looked up to. Michael Sheen, Dakota Fanning…the whole Volturi had no idea we were planning this. So when we all started dancing, Michael just started [shows robotic dance moves] breaking into a dance too.
Q: Will the scene make it in the credits?
Lutz: I don't know, I don't' think it will. I think they'll use it on the DVD, for behind the scenes.
Q: Your next film project is Tarzan, which is motion capture, how was that?
Lutz: I had to wear a wet suit, like for surfing. I loved it. Going from Twilight, hours of white makeup and contacts, which -I have small eyes and had to have two technicians force contacts in my eyes, it's not fun. I loved motion capture. I had to learn how to walk [like Tarzan] which was a bit difficult because I play football, so I'm very stiff.
Q: Are you worried about being typecast as a vampire?
Lutz: No, that'd be awesome! It's better than what other actors are being typecast for. Uhm, on my first week on set, I thought they were punking me, because I would be like, 'where are our fangs? I'm a vampire, give me fangs.' And also, we sparkled in the sun. *laughs* What vampire is this?
Q: What has been your craziest fan experience?
Lutz: Ooh, there's a lot! After the first movie, we had a lady give us her baby. Nikki and I [while promoting Twilight] were like 'Oh, we love kids!' so this lady brought her kid by and said, 'do you want him?' And we took him, but then an hour goes by and we can't find the mom! Does she really think we're going to take this kid? We called production and they tracked her down. I mean, she didn't leave, it wasn't her intention to abandon her kid, but she trusted us with him.

And then another time, also in the first movie, we didn't have security and one day I had a knock on my door at the hotel I was staying in. I thought it was a cast member or room service, but it was two fans with a basket of gummy bears, beef jerky, crackers, and other treats, and I'm like…'all right come on it!' Then production talked to me like, 'you can't bring people into your room! They'll sue, they'll make up something.' Yet, I'm like 'but they had gummy bears!'
Q: Rumors of a twist ending are floating around, should fans be nervous about it not being like the book?
Kellan Lutz: There's a lot of room to embellish and to add some fun scenes. I guarantee that every fan is going to be thrown through a lot of mixed emotions, but in the end they're all going to be like 'oh my god that was amazing!'