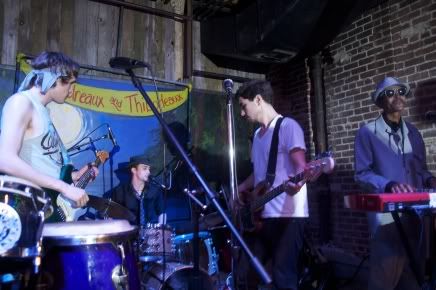 For at least the next month and a half the members of the Los Angeles-based band 100 Monkeys will call Baton Rouge their home. Their time, however, will not be spent swinging from trees. Instead, they have an ambitious list of tasks to get done and it all begins with a recording studio.
"We're in town finishing up our sophomore album," Ben Graupner said during a CW21 exclusive interview conducted in downtown Baton Rouge. "We're also working on some smaller side projects."
Including Graupner, the other four who make up the total monkey clan are Jackson Rathbone, Jerad Anderson, Lawrence Abrams, and Ben Johnson. Depending on the night or the mood, each member of the band may perform on any given instrument, which includes everything from traditional guitars to mandolin, flute, and even trumpet.
This all stems back to the band's roots.
"We would record a lot in the living room and just jam and see what happened," Johnson explained when discussing the formative years for the band. "When we started, we were just jamming…improvising…and then we started to get our songs together."
Except for Anderson, who will be coming to Baton Rouge later this week, the members of 100 Monkeys performed their Baton Rouge debut at Boudreaux and Thibodeaux's on Third Street. This will be a weekly gig for the temporary residents, and it too harkens back to the old days.
"We started playing this weekly residency at the 24K Lounge in Los Angeles," Johnson recalled. "It was a great bar. Unfortunately it's closed now. But we would play there every Tuesday night. We're hoping to get a similar thing going on here [in Baton Rouge]."
Although you wouldn't truly qualify 100 Monkeys as a "jam band" they certainly bring an unpredictable vibe to their live show, which was evident during last night's performance. The guys say it was a welcomed break from working in a studio.
"We've been here for about a week and this is the first time we've gotten out of the studio for the first time except for a cigarette run or to get a little bit of food," Graupner said when asked if they have had a chance to check out the local music scene since arriving.
"As much fun as it is recording, its fun to get out and see the audience and who you're recording and making music for," Rathbone continued to say with genuine enthusiasm. "At the end of the day, we're a live band."
By the end of the night, the band certainly gave the crowd a show worth talking about. The packed room was filled with one of two fans; those who were there because of the band, and those who were there to celebrostalk. No matter the motive, the free performance was one as captivating as it was hot from all the huddled bodies pushing towards the stage.
100 Monkeys intends to perform every Tuesday night in November at Boudreaux and Thibodeaux's.