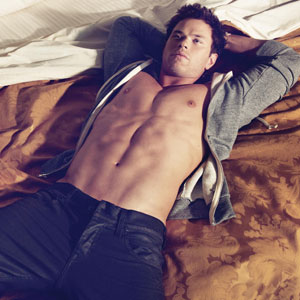 Courtesy of Yu Tsai
Kellan Lutz, who famously (or infamously) plays one of Robert Pattinson's vampire bros (duh), is once again in front of the camera, but not in the way you'd expect. Lutz is going back to his modeling roots and striking a pose for two campaigns this upcoming fall.
You may remember that the Twilight star modeled for the 2010 Calvin Klein X underwear campaign and gave us all those drool-worthy pics. Well, Kellan and his washboard abs are back. Sorry, no underwear modeling this time, but that doesn't mean he's covering up the goods...
RELATED: Twilight Stars Surprise Hungry, Sleepy Comic-Con Fans With Breakfast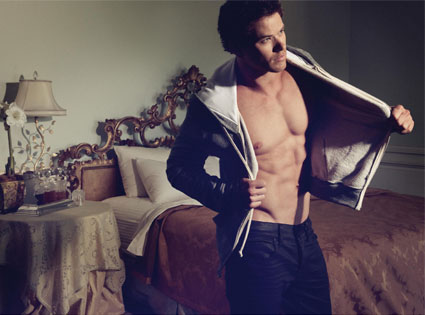 Courtesy of Yu Tsai
Lutz's handsome mug will be the face of the Dylan George and Abbot + Main by Dylan George Fall 2011 campaigns. And to say that the pictures are steamy is an understatement. Hope these aren't up on billboards because these babies certainly have the potential to distract drivers. Damn your eye-catching six-pack, Kellan!
And that's not all he's been up to.
Kellan has also gone Project Runway on us and joined the world of fashion design. He and Dylan George founder Danny Guez have created a new ready-to-wear men's line that will launch this fall called The Abbot + Main by Dylan George, which, yes, is also one of his modeling campaigns.
For all you classy young gents who don't like to fork over massive amounts of dough for your duds, you can rest easy. The Abbot + Main by Dylan George collection includes 25 Venice Beach-inspired pieces that will range from $44 to $178.
Can we just say that we find your little foray into men's fashion amusing, Kell? It's kind of strange seeing as you really shouldn't be wearing any clothes at all. But we'll wait for Heidi Klum to throw in her two cents.
May we suggest you combine your fashion line with your love for four-legged creatures and design outfits for rescues? Cute knits and shirts for animals? We already love it. And you know Jacob would love to have some A-list apparel for when he's in wolf form. Make it happen, Lutz.