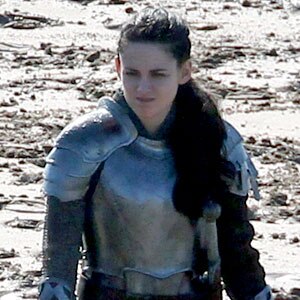 Simon Hammond / Splash News
Guess it's goodbye to vampires and hello to fairytales. 
And since we all know Kristen Stewart is posted up in London (sans Robert Pattinson) filiming Snow White and the Huntsman, we had to find out what kind of style K.Stew is sporting on set. 
So we know our girl looks hot hanging with vampires, but is K.Stew still the fairest of them all?
RELATED: Get Ready For a New (And Improved!) Kristen Stewart!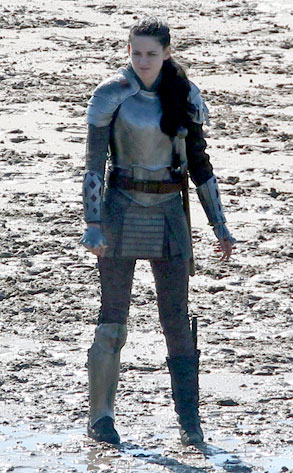 Simon Hammond / Splash News
Well, duh.  Girl looks fab—even while donning armor!  
From the looks of these on-set pics this dark version of the fairytale is prepping Kristen for some serious sword fighting. 
And while we adore Kristen as the lovely Bella Swan, we must admit, it's nice to see K.Stew take on a role where she can show-off her beauty and her badass 'tude. 
As for Kristen missing Rob on set? Hardly looks that way. K.Stew is all smiles, but that's no surprise—girl has some serious dedication and if she can't spend time with her man, no doubt she wants to spend it polishing her acting chops. 
We can't wait for the next set of photos to be revealed, cuz while we think Kristen looks hot any day, we're anxious as ever to see K.Stew in her full fairytale-wear. 
So, mirror, mirror on the wall, please bring us more pics of K.Stew as the fairest of them all!