Kristen with Nicolas Ghesquiere kstewartfans. The Balenciaga Florabotanica Print Ad. WWD HQ Scan KStewDevotee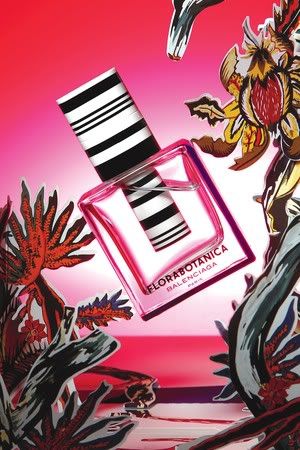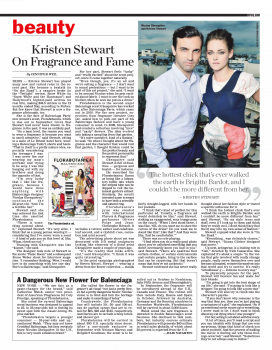 'Florabotanica' by Balenciaga Paris Bottle Via
@Jimshi
The Florabotanica line will include 30ml ($65), 50ml.($95), and 100ml. ($125).eau de parfum sprays. Ancillaries are to include a body lotion and shower gel.
WWD.com PARIS — Kristen Stewart has played many new and varied roles in the recent past. She became a beatnik (in "On the Road"), a vampire bride (in the "Twilight" series), Snow White (in "Snow White and the Huntsman") and Hollywood's highest-paid actress (in real life), making $34.5 million in the 12 months ended May, according to Forbes. But few know that Stewart is now a fragrance aficionado, too.
She is the face of Balenciaga Paris' new women's scent, Florabotanica, which is due out in September. Given that Stewart had never been drawn to fragrance in the past, it was an unlikely part.
"On a base level, the reason you want to wear a fragrance is because you want to smell attractive," said Stewart, sitting in a suite of Le Bristol hotel here, wearing a Balenciaga T-shirt, shorts and heels. "That in itself is a pretty mature idea, especially considering the teenager I was. I was never the one wearing my mom's perfume and trying to be sexy. I was like hanging out with my brothers and doing the opposite of that. I'm very lucky that I like the fragrance, because I would have done anything with [Balenciaga designer Nicolas Ghesquière]," continued the 22-year-old. "And I'm a terrible liar."
Stewart said she was relieved the first time she smelled Florabotanica. "There is something natural about it," explained Stewart. "It's very alive. I think that as a young person wearing it — considering that I've never worn a scent — it kind of puts you on this level of, like, 'Whoa, check me out.' "

Teaming with Ghesquière was like "kismet," she said.The designer took note of Stewart in the movie "Panic Room" and a subsequent Bruce Weber shoot for Interview magazine. "I remember thinking, 'Wow, I would love to do something with her one day.' She's so Balenciaga,"said Ghesquière.
For her part, Stewart feels "lucky" and "really excited" about the scent project, since it came together naturally.
"Even though, yes, it's an ad and we're selling a fragrance — I don't want to sound pretentious — but I want to be part of this art project," she said. "I want to be around Nicolas when he gets excited about fabric. I want to see the look on his face when he sees me put on a dress."
Florabotanica is the second major Balenciaga scent Ghesquière has worked on, after Balenciaga Paris, which came out in 2010. For the new project, executives from fragrance licensee Coty Inc. asked him to pick out part of his Balenciaga fashion and have a young consumer in mind. In 2008, Ghesquière had created a collection involving "nice" and "nasty" flowers.
The idea evolved into taking a sampling from that garden.
"It's more narrative, kind of a fantasy," he said. "So when I thought about the fragrance and the character that would visit that garden, I thought Kristen could be the perfect beauty and the perfect personality to represent that."
Ghesquière said Stewart is full of dualities — gorgeous and boyish — for instance. He described the Florabotanica flacon as being like a laboratory bottle into which the striped tube can be dipped to cull the botanical garden's extract. Similarly, the scent's invented name is meant to have both a scientific and natural ring.Florabotanica's juice was created with International Flavors and Fragrances perfumers Olivier Polge and Jean-Christophe Hérault. It includes a vetiver, amber and caladium-leaf accord, and a (hybrid) rose, carnation and mint accord.
The advertising photo shoot set was decorated with 3-D metal sculptures looking like elements of a floral print Ghesquière made a couple of years ago.
"It's the reality that looks artificial," said Ghesquière. "I think it was quite interesting." In the print campaign photographed by Steven Meisel, Stewart — wearing a dress from the flower collection — stands fairly straight-legged, with her hands in her pockets.
"I think that's kind of perfect for this particular ad. Usually, a fragrance ad would definitely be like," said Stewart, striking an exaggerated, sexy lounge pose on the couch. "When I first stood there, I was like, 'OK, do you want me to show the curves of the dress? Do you want me to stand like this? Like that?' And they were like, 'Just be comfortable.' "
There was no role-playing. "I find when you do a really good photo shoot, you've unlocked something that you didn't necessarily know you had in you," said Stewart. "There are qualities that certain clothes, or certain environments and certain people, bring to the surface that can be surprising. But that doesn't mean that they're not authentic."
Stewart confessed she has never really thought about her fashion style or traced a specific influence for it."I think the hottest chick that's ever walked the earth is Brigitte Bardot, and I couldn't be more different from her," said Stewart. "So my style icons and stuff, even if I look up to them and think they're really cool, I don't think [they find their] way into my own sense of fashion."
Stewart enjoyed what she wore in "On the Road." "Everything…was delicately chosen," said Stewart. "Danny Glicker designed that movie."
Up next, actingwise, is a leading role in "Cali," directed by Nick Cassavetes. She explained it's about a couple "in the valley that gets involved with really strange people, really screw themselves over and become alienated, reinsert themselves into that world and try to survive. It's really 'Grindhouse'-y — extreme in every way."
To physically prepare for the part, Stewart will become tan and make her hair blonde."I'm going to get into the best shape of my life," she said. "I'm going to look like a stripper. I'm going to look like a porn star."
Stewart will also try to climb into the character's psyche. "If you don't know why someone is the way that they are, then you're just playing a caricature of a girl," she explained. "So if an emotional scene comes up or something, I never want to lie. I don't want to think about my cat dying when I was younger."
For her, acting is all about self-discovery. "A lot of times, you'll read a script and you can identify with things that are very surprising, things that kind of shock you about yourself. And the process of making the movie is finding out why those feelings occurred," said Stewart. "Sometimes they're not always easy to define."