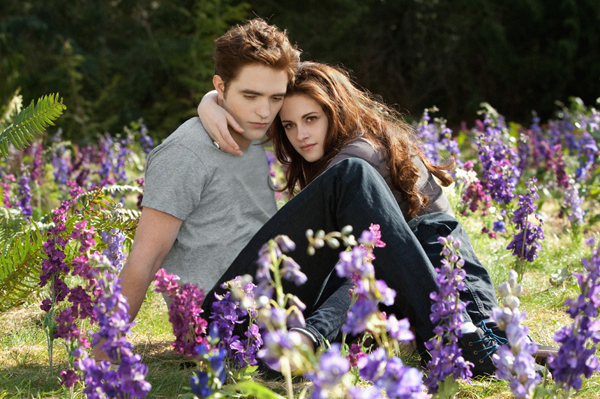 The Twilight Saga: Breaking Dawn — Part 2 Blu-ray is set for a March 2 release and in this exclusive clip, stars Kristen Stewart and Peter Facinelli explain why turning theBreaking Dawn book into a movie was a formidable process.
Turning Stephenie Meyers' 768-page wrap-up to her Twilight Saga into a movie wasn't an easy task, starsKristen Stewart and Peter Facinelli assert in this exclusive clip from The Twilight Saga: Breaking Dawn — Part 2's Blu-ray edition, out March 2.
As the stars tell it, making the separate halves of the almost four-hour-long Breaking Dawn set was a Herculean task.
"It's being shot like one movie," says Kristen Stewart, being interviewed for the DVD extras. "And the book is not broken up into two different stories, so it's kind of just one long movie."
She sounds tired, no?
Peter Facinelli, who plays vamp dad Dr. Carlisle Cullen in the Twilight movies, said that he felt pretty intimidated when the movie's scripts arrived.
"When I got the scripts to these movies they were 250 pages," he says in a gee-whiz tone. "Like two scripts. It was heavy and I looked at it and I was like whoa, this is pretty daunting."
Maybe so, but perhaps it was worth it? Some fans were so excited for the movie's release that some started camping out almost a week before it came out. Too much, you think?
Watch video Here