Two weeks ago I had a chance of meeting a very amazing lady. She's
70-something, she's on the Forbes' 48 Heroes of Philanthropy list, she's
a famous singer and hotelier, and most importantly, she's a huge huge
Kristen Stewart fans. She's Mrs. Kamala Sukosol from Thailand. I met her
with another of Twilight fans from Thailand, Pom, and bunch of my
Twilight-gank from Indonesia.
In Asia, there're LOTS lot of Kristen's fans. Some of us from Indonesia
and Thailand decided to meet up in Singapore because we share one common
very deep interest, Kristen Stewart. Hope no one here think we're crazy
to go cross country only to meet up with another fans ;p. No really, it
was an amazing experience that 10 of us went through. We shared a lot
of news, stories (some of us had meet Kristen and Rob before) and had a
great laugh. In fact, our meeting was published in a local Bangkok
newspaper. I copied the website version below.
taken from
HERE
During our "twitrip" we watched Eclipse together, had an unforgettable dinner, and had the longest talk in the world. She told me she's been following
Kristen's journey as an actress and became a fan since Kristen was a
kid. She has watched almost all Kristen's movies, and she's also a big
Robsten fans and has a big faith in them, calling them "the realest
thing in Hollywood." Mrs. Kamala Sukosol also has a nickname, Twilight
Grandma, we called her. As she's probably the most active Twigrandma in
the world, always searching for Kristen's news in the morning before she
goes to work. And once she asked all of her employees to vote for
Kristen to win Most Favorite Actress in an award show.
I'm not sure if the mods allowed such a post here, but I just wanna shared this
little thing that Kristen has brought us together. It was great to meet
Kristen's fans from another country and shared a lot with them. Thank
you for reading this :)
PS: Some of our pics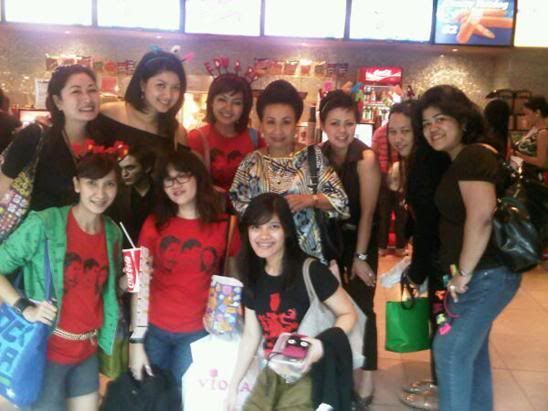 Eclipse Screening.
LOL yeah, we had "Edward" "Bella" Headband ;p



Dinner