wwd.com SNOW WHITE, OR BLACK?: "I know everyone thinks I wear black all the time, but I really do love vibrant colors," Kristen Stewart of the "Twilight" series said after taking in Mulberry's bright show Sunday morning at Claridge's. There were ice cream vans stationed outside the hotel and a sea of giraffe, zebra and tiger balloons bobbing in the lobby to fit the collection's seaside resort theme. The show drew a starry crowd, including Kate Moss — clad head-to-toe in Mulberry denim — Romola Garai, Hayley Atwell and Harley Viera-Newton.

Stewart, in London until November shooting "Snow White and the Huntsman," noted her take on Snow White is far from the cutesy Disney version. "It's more based on the original telling of it, which is fairly dark…it says a lot of great things about vanity and image and strength and standing up for what's right," she said, describing the title role as a Joan of Arc type.
On the catwalk it was all rain macs in bright yellow and big Brigitte Bardot hair. "I loved the yellow, it's actually my favourite colour," Stewart told us backstage after the show, confessing that going to shows isn't something she'd usually do. "But I was really glad to come to this one." -Vogue.UK
Stewart, who rose to fame through her role in the Twilight saga, admitted she was a big fan of British fashion, and said of the show: ''Oh man, it was great.''TelegraphUK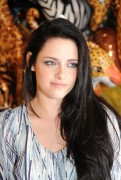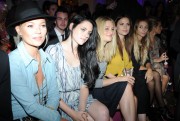 Thanks to kstewartfans and KStewAngel and amazedbyrobsten
 
Kristen's interview from the show! 
twibritneyfan Full youtube video HERE
Or watch HERE at 0:20.
Screencaps via kstewartfrance
Thanks to:RobStenation