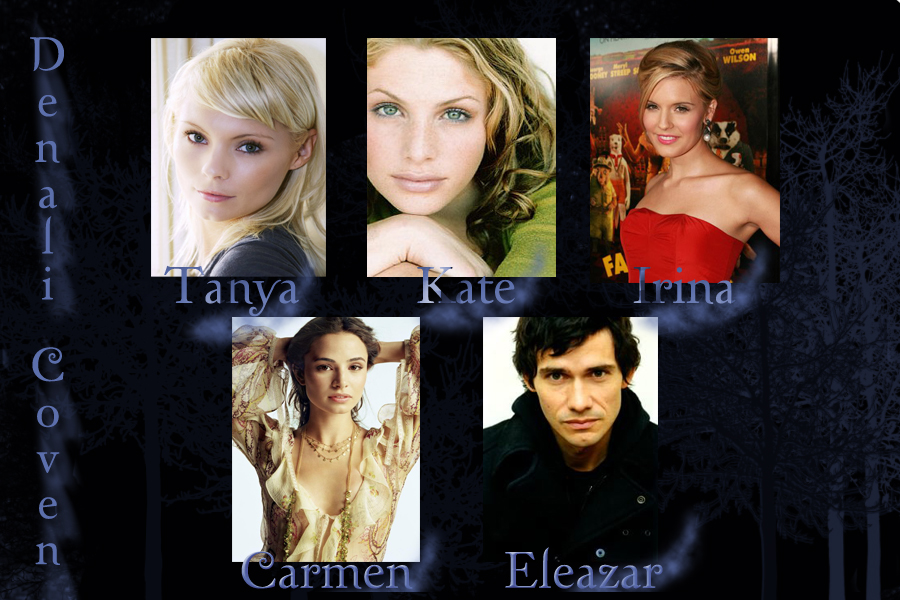 The Denali coven recap:
Eleazar and his mate Carmen, Tanya, Irina (deceased), Kate, and later Kate's mate Garrett are members of the Denali coven. Like the Cullens, the Denali coven practices a diet of drinking animal instead of human blood. They are considered to be cousins of the Cullen family, though the relationship is put under strain in Eclipse when they refuse to fight Victoria and her army because of Irina's vendetta against the werewolves. Tanya, their leader, has strawberry blonde hair and once expressed an interest in Edward Cullen, though he turned her down. Carmen speaks fluent Spanish and was the first to listen to and not fear Renesmee for being a half-breed. Eleazar, a former member of the Volturi guard, speaks fluent Spanish as well and has the ability to vaguely identify the gifts of other vampires. Garrett, a tall, rangy vampire with ruby eyes and long sandy hair, is an adventurer, and alludes to being an American Patriot. He joins the Denali coven in Breaking Dawn and becomes Kate's mate. Kate's special ability is the production of an electric current over her skin that can shock and incapacitate attackers. She assists Bella in learning to use her new ability to mentally shield those around her.
Sasha, Vasilii, and Irina were former members of the Denali coven. Sasha, who created Tanya, Kate, Irina, and Vasilii, was executed by the Volturi for creating an immortal child, Vasilii. Volturi law prohibits creating an immortal child, as they are unpredictable and have no self-control. For this reason, both Sasha and Vasilii were destroyed, and since then the Denalis have maintained respect for Volturi law. Laurent was Irina's mate, and she holds a grudge against the Quileute wolves for destroying him. She arrives to make peace with the Cullens in Breaking Dawn, but before speaking with them, she sees Renesmee, mistakenly assumes she is an immortal child, and notifies the Volturi. After determining that Renesmee is not an immortal child, the Volturi destroy Irina in order to provoke her sisters into attacking them, thus giving them an excuse to destroy them along with the Cullens and their allies.