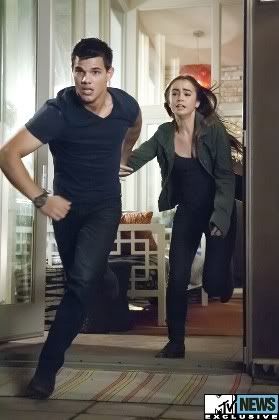 According to MTV.com, Taylor Lautner will be live streaming on April 13th to promote his upcoming movie "Abduction" and to talk some about "Breaking Dawn" ( yippee!!!).
Team Edward enjoyed their proverbial day in the sun a few weeks ago, so it's only fair we do Team Jacob a solid too.
Get your Taylor Lautner panties cleaned and pressed because on April 13, MTV News' own Josh Horowitz will sit down with the "Twilight" star for a 30-minute, one-on-one live interview!
Of course that's not all....
"Anyway, in addition to our lengthy chat with the 19-year-old, we will also debut the trailer for his upcoming flick "Abduction," co-starring Lily Collins!"
So when does this happen???
It all goes down next Wednesday at 7:56 ET on MTV and MTV.com. And, as you probably guessed, we want your help! Have a burning "Breaking Dawn" question? Need to know Taylor's favorite breakfast cereal? Or what sort of deal with the devil you'll need to make for the privilege of touching just one abdominal muscle? Send your inquiries to @mtvnews using #asktaylor, and your query might make it into our live stream!
Ok, Team Taylor, Team Jacob, Team Tay Tay (or just a twi cast lover) make sure you TUNE IN!! (or set that DVR!)
Source:
www.MTV.com