Peter wrote about this article in his
twitter
and of corse we have to check it!!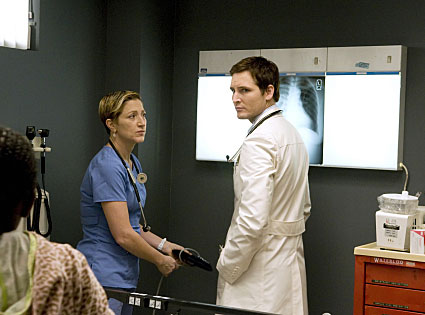 Grabbing Edie Falco's breasts isn't as easy as it looks.
Nothing against the fabulous star of Nurse Jackie, it's just that Peter Facinelli, who plays the sexual Tourette's-afflicted Dr. Fitch Cooper on the hit Showtime series, has to think long and hard about just how to pull off the perfect boob grab.

If you have no idea what we're talking about, here's the deal: Nurse Jackie is one of our favorite new shows because it's smart, funny, quirky and has characters we actually care about. It's not your everyday medical show. Forget it's even a show centered on an ER nurse. It's a show about double lives, drug addiction, personality quirks and the struggles of every day life (OK, the last one was cliché, but trust us, the show is anything but cliché.)

Dr. Coop—who is a far cry from Peter's other doctor role as Dr. Carlisle Cullen of the Twilight and New Moon films—plays a socially awkward doctor who tries way too hard to get everyone to like him and who is clueless that most people just don't. And he has sexual Tourette's, in which he acts out in inappropriate ways when he is nervous or stressed. In his case, he often grabs Nurse Jackie's boob when she is confronting him about something. It's funny, off-putting and puzzlingly endearing the first time, and surprisingly, it's even funnier, more off-putting and more endearing the next time.

Here's what Peter has to say about his character's weird tick and what's to come this season...
check the full article here
here