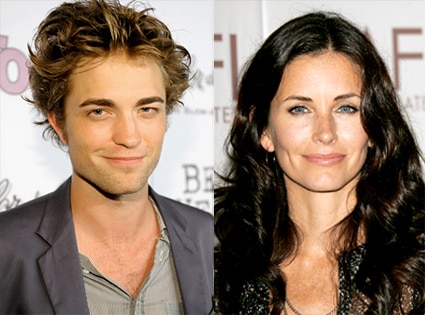 Can't you just see it now: Courteney Cox getting it on with Robert Pattinson!
It definitely would make for good TV on Cougar Town, Cox's upcoming ABC comedy in which she plays a 40-year-old single mom who has a thing for younger dudes.
"Why don't we get the Twilight guys," Cox's costar Busy Philipps told me today during a set visit by the Cheesecake Factory and Feeding America (more on that after the jump). "That would be awesome."
Cox is into the idea. "We'll have to do that," she said. "If the show is a success I'm sure it will be easy to do. But we'll have to see how it goes first."
Also on Cox's plate? Scream 4!...
As I was the first to tell you, Cox and hubby David Arquette have signed on for the fourth installment of the ghostface-killer movie franchise. Storyline is still under wraps, but Arquette hinted at a possible new addition to the Scream family. "Dewey and Gail may have a child," he said.
Arquette visited the Cougar Town and Scrubs sets today to help kick off the Cheesecake Factory's "Drive Out Hunger" campaign, a 30-city tour that hopes to collect 100,000 soup cans for Feeding America before Sept. 30. (See some pics over at my Twitter page!)
David is also producing a benefit concert for Feeding America on Sept. 29 in L.A., with performances by friends like Sheryl Crowe and Ben Harper. "It's the time to be dedicated to this," Arquette said. "People are hurting out there and people need help."
source