Peter Facinelli's Twilight Splurge? A Tesla!
Peter Facinelli's skyrocketing success as Dr. Carlisle Cullen in the hit Twilight series – and as Dr. Fitch Cooper on Showtime's Nurse Jackie – hasn't changed the down-to-earth star – but he has allowed himself one special treat: "I bought a Tesla S Model!"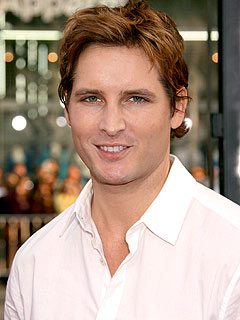 The actor, who has been working for more than a decade in Hollywood, suddenly finds himself starring in one of the hottest franchises around, but he says, "I've always had work and that's always been a good thing, so there's nothing really new there."

"But, I did buy a new car, which I am excited about," Facinelli, 36, told PEOPLE at TwiCon 2009, a Twilight fan gathering in Dallas, last week. "It's a coupe sedan. It's all electric. It's beautiful."

He's gotten a chance to drive one of the cars, but will have to wait for his own. "It doesn't come out until 2011. You have to pay half down and then wait for it to come out," he says of the car that starts at $49,000, according to Tesla Motors.

His packed schedule – he's just started pre-production on Eclipse in Vancouver – may hamper his ability to get out on the road, but Facinelli does occasionally get down time with his family, says the actor, who is married to Jennie Garth of 90210 fame.

"I finished season one of Nurse Jackie and New Moon and then took the summer off to spend it with my family," says Facinelli, who has three daughters, Luca, 12, Lola, 6 and Fiona, 2, with Garth. "We just came back from Hawaii and had a nice vacation there."

While he's waiting for his Tesla, Facinelli won't have time pine away for his new car: He'll be busy shooting Eclipse "for the duration." After that, "I go right into [the next season of] Nurse Jackie. It's a busy time for me. But, I love to work and I find a balance between it and time with my family."

Though he and his wife are no strangers to fame, Facinelli is finding that public adoration increases with every Twilight film. "To be part of something like this, where you walk into a room and there are thousands of screaming fans, is something I never experienced," he says. "My wife has – she never gave me any advice about it. You just have to experience it and deal with it in your own way."

source