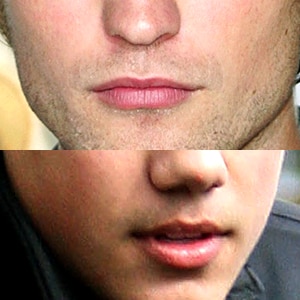 While it's no secret we adore our Robert Pattinson, we're superthrilled Taylor Lautner won the ab-off yesterday. No one can deny Team Jacob had the tight goods to finally win one.
Now it's time to pucker up for Round 6 'cause this time we're judging the Twi guys' lickable smackeroos. That's right, which studs' lips would you like to get a taste of? Tay (on the bottom, there) has the more luscious, rosy lips, while Rob's (top) got the brooding and pouting going on.
Whose would you rather lock with?
vote here