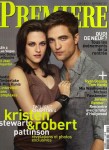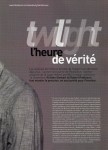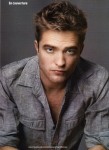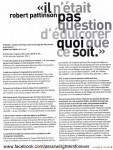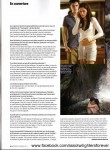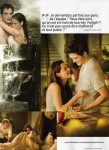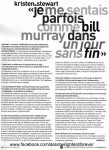 Translation via RPLife 
Rob's Interview
Première : How long did it take to film both movies ?
RP: 8 months!

P: Not to quote her, but Kristen Stewart told us 6.
RP: I had to stay longer.

P: Were there some mornings when you got up and asked yourself: 'I can't believe we're still filming this movie.'?
RP: For sure, I mean we spent two months shooting in the same room in front of a huge green screen.

P: I hope it was the sex scene!
RP: Nope! This one we wrapped in a day. No, we had to film scenes where nothing happens. We were trapped in this green screen room with fake snow all over the floor and we spent our days barely saying a word, looking each other in the , trying to look as intense as possible.

P: Nobody told you you were part of an experiment?
RP: That's it exactly, 'We're going to put you in this green screen for 8 weeks, we'll see which one will break down first.'

P: Did Bill Condon come on set with his Oscar beneath his arm?
RP: No, that's not like him. But I don't think he realize what he got himself into. He's someone that doesn't stress much tho or he's really good at hiding it!
It's funny, really. Everyone came to him screaming: 'Bill did you see this? It's nonsense!' He'd just look at them and say 'I know, it's crazy.' And the next second, he was gone.........


Kristen Interview:


P: The first Twilight movie was a teenaged love story, the second a love triangle and the third, looked almost like a war movie. How would you describe Breaking Dawn?
K: It's more a family drama. Contrary to the previous films, everybody is united in this one. The beginning of the movie sets up a ton that literally departs from the other movies, which in my opinion was what the saga truly needed. It's fun, it's light, we finally see the characters happy. Of course, it doesn't last long…

P: I admit I have a soft spot for the first movie. I felt like the next two were just there to stretch the story in vain.
I understand and I agree, the first one had something. It was original and stands out by itself. I felt like the book was well represented, that Stephenie's hand was visible. It's the peak of the story we tried to build for 3 movies. It's the grand finale with all the excitement that goes with it.

P: I read that Stephenie Meyer wrote the grand lines of the fourth book right after the first one, which could explain this 'padding' side of the second and third book.
I didn't know about that. But it's true that it wouldn't be absurd in the sense that we could go directly from book one to the wedding in the fourth. At the same time, I remember Stephenie was writing the fourth book while we were filming Twilight. When I think back to that period of time, it seems so crazy to me. Nobody knew anybody, we were all different. I can see us again, actors, directors, screenwriters, going up to each other and said sort of shyly 'Hello everyone.' Now that we're all so close, it feels weird...........
Read the rest of Rob's and Kristen's interview at RPLife