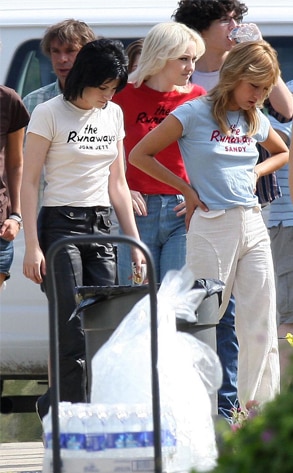 So we've all seen plenty of pictures of Kristen Stewart dolled up as Joan Jett for the Runaways movie in production.
But as great as we think the New Moon star is, we wonder if she should have held out for a different, possibly better band to pretend to be part of. (Jett went on to solo success, but do you remember what the Runaways sounded like? Like this.)
Whatever. But as long as we're going to see a re-creation of the original band's bustier-bustin' "Cherry Bomb," we'll put this out there: How about getting our favorite young stars to make biopics about musicians and bands we still like and care about?
Sounds like a great idea, so we're taking suggestions. And here are a few ideas of our own: Robert Pattinson as Morrissey! Adam Lambert as Elvis Presley! Ryan Phillippe as the star of the biopic I Was the Drummer for U2!
Surely, you have something better to offer?
surce