Stephenie Meyer and Nikki Reed at Vancity airport
Turns out Twilight author Stephenie Meyer was in Vancouver to mark the final days of shooting Eclipse – she was at the airport at the same time as Stewart and Pattinson yesterday but was obviously overshadowed. It was Meyer who declared last year that Pattinson was "Oscar worthy" as "Edward Cullen" in Twilight. Twi-Hards obviously agree, as evidenced by Shelly's hatemail yesterday. Apparently to them, the Academy is totally disrespecting the artistic effort behind a two hour constant constipation face.

But no one said it better than Jeffrey Wells who gave Meyer "a permanent cultural demerit" for her suggestive f-ckery. His entire article on the subject was hilarious. Click here to review it.

As for Nikki Reed – she was seen at the airport the other day too with her friend Sage dropping off a tearful woman presumed to be her mother (?) who'd evidently come in to join her towards the end of the shoot. No sign of her boyfriend the Ebola Carrier Paris Latsis.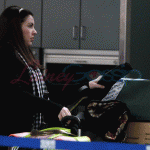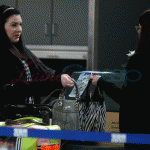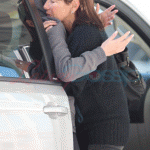 source