Stephenie Meyer to do The Host Book Signing in Philadelphia February 22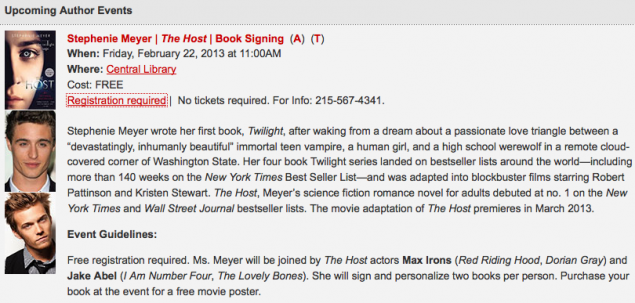 Stephenie Meyer is doing a Book signing at the Philadelphia Public Library. Jake Abel and Max Irons from The Host will also be there.

Stephenie, Max & Jake book signing.

Stephenie Meyer The Host Book Signing 
When: Friday, February 22, 2013 at 11:00AM 
Where: Central Library (http://libwww.freelibrary.org/branches/branch.cfm?loc=CEN) 
Cost: FREE
Registration required No tickets required. For Info: 215-567-4341.

Event Guidelines:

Free registration required. Ms. Meyer will be joined by The Host actors Max Irons (Red Riding Hood, Dorian Gray) and Jake Abel (I Am Number Four, The Lovely Bones). She will sign and personalize two books per person. Purchase your book at the event for a free movie poster.
Sign up required. See the Library's page here.
Thanks to TL