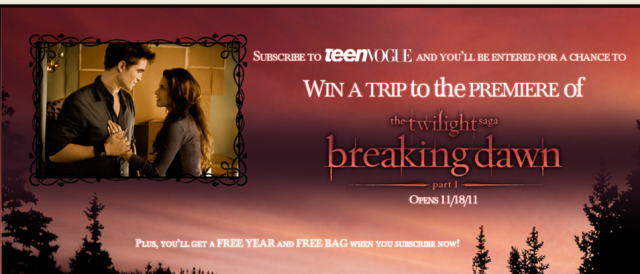 Teen Vogue offers you a chance to win a trip to the Breaking Dawn premiere and  win some cool runner up prizes as well. 
 




 

The Twilight Saga: Breaking Dawn – Part 1 Premiere on November 14, 2011


One lucky winner and their guest will get to go to one of Hollywood's coolest events ever: the premiere of The Twilight Saga: Breaking Dawn - 
Part 1 in Los Angeles later this year! We'll fly you to Los Angeles to check out the star-studded red carpet – where Kristen, Robert, and the rest of the cast are expected – and be among the first to see Part 1 of the final chapter of the Twilight Saga on the big screen.

 

 

5 lucky winners have a chance to win a Twilight Limited Edition Sparkle Ceramic Styler, a Hot Topic Sublimation t-shirt, an Immortal Twilight fragrance, and a Twilight Venom lip stain!
thanks to : Twilight Lexicon