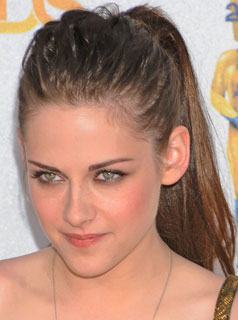 Last week, we noticed that Kristen Stewart was sporting extensions. But after seeing her hair at the MTV Movie Awards, we've almost forgotten that her length isn't all her own.
Fekkai stylist Adir Abergel used extensions to create Kristen's high, textured ponytail for the event. It looked so natural that it was impossible to tell where the extensions began.
Instead of a traditional clip-in hair fall, Kristen is wearing track extensions — just a simple length of hair. Abergel wrapped the track around her own natural ponytail so that her shorter hair wasn't visible, and then pinned the track to the base of her ponytail. He covered the track completely by wrapping a piece of Kristen's hair from underneath around the track and then pinning it. To keep it all in place, he added Fekkai Coiff Sheer Hold hairspray. So whether your hair is all yours, or you're using extensions like Kristen, that's the secret to a neat, perfect ponytail.