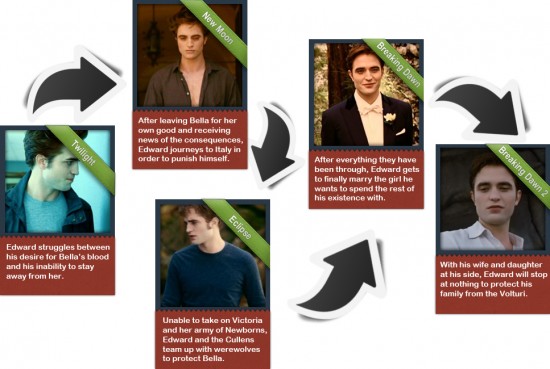 Hypable is giving us a look at how the twilight characters Bella , Edward & Jacob have changed through the years , From movie to movie :-
Bella transforms from a clumsy girl into a battle-ready vampire
Bella came so far from those first scenes where we saw her leaving her mom and the beloved Arizona desert behind. Seeing her amongst the soggy citizens of Forks made her seem even more out of place, but by the time we see her in the final film, she has become everything she never was: a mother, a wife, and a strong, confident, graceful woman.
Edward transforms from a loner into a man fighting for his family
Edward's arc was compelling because we could see the obvious influence that Bella had on him. In the beginning, he struggled with everything: his craving for Bella's blood, his longing to be with her, and his insatiable need to protect her. No one will deny that Edward took a few turns down the wrong path, but Breaking Dawn sees him back on track. His confidence in Bella and his love for his family drive him to do anything in his power to keep them safe.
Jacob transforms from a young boy into a decisive leader
Poor Jacob probably had to endure the most out of the three. He began as just a normal boy, not quite content that his feelings for Bella went unanswered, but unable to do much to convince her otherwise. Then, soon enough, he discovered his lot in life: to be a werewolf in order to protect the townspeople from vampires. Though his timing and his methods were never quite perfect, his actions always came from his heart. He learned to accept Bella's decision, as hard as it was to bear, and in the end Jacob finds the person he was always meant to be with.