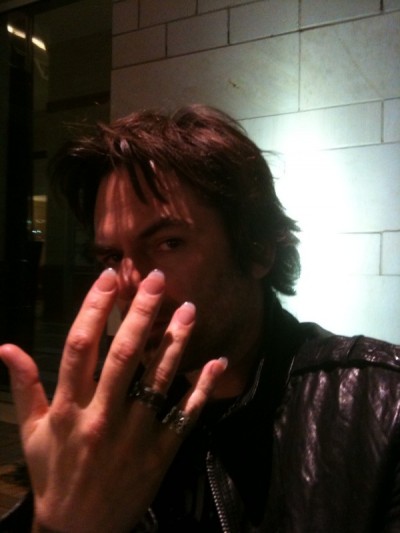 There have been a number of supporting players in "The Twilight Saga" who have been able to use their newfound notoriety into bigger roles but none who have deserved the chance more than Billy Burke. Better known as Bella's dad Charlie Swan, Burke has been working in Hollywood for almost 20 years with small roles in films such as "Fracture," "Ladder 49," "Along Came A Spider" and TV series roles on TV series such as "Gilmore Girls," "My Boys" and "24." Now, he's getting his most significant break yet as a conniving and evil cult leader in the supernatural action thriller "Drive Angry 3D."

Visiting the set of "Angry" in Shreveport, Louisiana a few months ago, Burke was the center of a massive action scene between his character and a vengeful father from hell played by none other than Nicolas Cage. Burke took some time off from his shooting schedule to sit down and talk to the assembled press on a very warm May night. He was as candid and classy as you'd expect for a longtime Hollywood veteran.

Q: Your get up is very rock and roll.
Burke: You think? Well, that's what we were mildly going for. A little cross between Jim Jones, Jim Morrison, and maybe a little bit of Tony Robbins. (laughs)

Q: Is that something that drew you to the part?
Burke: Yeah. I immediately liked just the unreasonable flamboyant attitude that this guy had. So, yeah.

Q: The obvious and immediate thing that all of us nerds are thinking right away is wondering whether or not this is a little bit cathartic after having played the dad in 'Twilight.'
Burke: It is, indeed. I started my career actually, maybe the first 10, 11 years, playing the bad boyfriend with the gun. And I got ill with that and moved on, for some reason, to playing cops all the time. And so this is quite a nice and refreshing departure from all that. I get to, yeah, let loose a little bit, do some stuff that I wouldn't normally do; that nobody would normally do, I suppose. [laughs]

Q: What's going on with the nails?
Burke: That was an afterthought. We started to talk about what this guy looks like and what he does. And then just before we got down here, I thought, well…I was thinking back to movies in the '80s and similar characters that I enjoyed watching. And I remember a particular character from a particular movie that I enjoyed watching. And one of the moments in that film started on his nails. I won't tell you what it is because that will give too much away and I will be stealing. But yeah, that was an idea that sort of came in the midst of putting this guy together. So I went in and had them done, and now they are a pain in the ass to live with. But they are working well for this.

Q: But it's not really stealing, it's more of an homage, isn't it?
Burke: It's an homage, yeah. We can call it that. I like that word.

Q: Just throwing that out there.
Burke: Yeah. Do we know what movie I'm talking about?
Q: 'Superman 4?' (Laughs.)
Burke: Wow! Uh, no!

Q: I almost wanted to say something like '48 Hours,' but I'm sure I'm wrong.
Burke: No. It's…I'm not going to tell you, because that's just not….Once you see it again, you'll figure it out. It's a good one. 'Superman 4'? I don't know that I ever saw 'Superman 4.'

Q: With a movie that is hyper-violent like this, a very hard movie, do you almost feel reticent to go over the top, that you are going over the top with the character, or are you just kind of going…
Burke: I don't feel reticent to, but I…it's a pretty rare moment for me when I really go that far over the top. Sometimes when something gets stuck up my ass, I can be pushed to go there. But I normally don't like to. I like to stay within the boundaries of what I think is realistic. But in this movie nothing is realistic, so. But yeah, there is a lot of freedom here. I mean there are places that I can go that I have enjoyed going.

Q: We saw you shooting. Your character seems like a pretty intense guy.
Burke: Yeah. He's got a vision. He's got a vision and he feels right. And there's nothing…As one of the lines in the movie says, 'there's nothing more dangerous than a righteous man with an idea.'


Read the rest HERE