UInterview : Submit Your Questions For Nikki Reed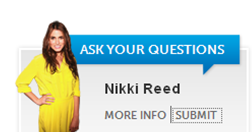 UInterview is doing a Q&A with Nikki Reed, and they want your questions.  If you have questions for our Rosalie Hale, now is your chance to ask them. Go to their site here and

click the submit button in the top left corner by Nikki's photo!

 Click on the indicated buttons to participate.
via / via