And we thought all we'd have to fuss over this week was Knox and Vivienne Jolie-Pitt turning 1! (Sigh...we remember covering every second leading up to their birth as if it were yesterday...)
Instead, the nominees for this year's 61st Annual Primetime Emmy Awards were announced, all sorts of celebs dared to make news, and we launched our very own scientific study into what happens to fanggirls' heart rates and body temperature when asked to debate the eternal question—Edward vs. Jacob.
All this and more as we remember the week that was:
1. ...
...................
5. So far, Robert Pattinson has totally dominated Taylor Lautner in our battle of the Twilight suitors. And we know Jacob's battle for Bella's heart is futile. But man, there's got to be something the secondary stud has going for him that tops his magnificently coiffed, 110-year-old counterpart. Even Timberlake is on Team Pattz! And now he's got this Eclipse guy to compare hair 'n' stuff with...
6. ...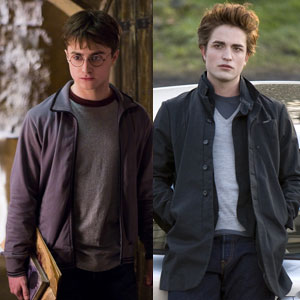 7. Harry Potter & the Half-Blood Prince opened hella big, putting to rest any concerns that the studio had avada kedavra'd itself by delaying the sixquel's release. Or that fans had abandoned Hogwarts for Forks, Wash. Thank goodness there's Jimmy Fallon to keep the imagined vampire-wizard feud alive.
Read all
here