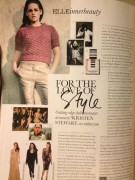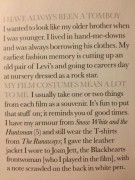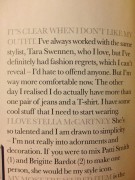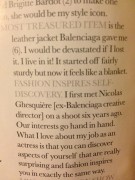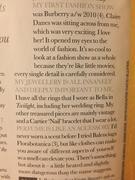 Click to enlarge
In a new feature interview for Elle UK, Kristen Stewart has revealed the items she took home as souvenirs from the sets of The Twilight Saga, Snow White And The Huntsman and The Runaways.
"My film costumes mean a lot to me," she explained. "I usually take one or two things from each film as a souvenir It's fun to put that stuff on; it reminds you of good times."
So what did she collect from her most recent three movies?
"I have my armour from Snow White and the Huntsman and I still wear the T-shirts fromThe Runaways; I gave the leather jacket I wore to Joan Jett, the Blackhearts frontwoman, with a note scrawled on he back in white pen."
As for Twilight, well, this is something we've heard before but, "I have all the rings that I wore as Bella in Twilight, including her wedding ring."
Interestingly enough, Stewart also revealed the style item she's become most attached to over the years.
"[My] most treasured item is the leather jacket Balenciaga gave me. I would be devastated if I lost it. I live in it! It started off fairly sturdy but now it feels like a blanket." 
Thanks to TwiExaminer