Esme and the clan Denali at the wedding of Bella and Edward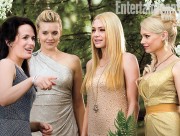 And, what other conclusion can be drawn with this picture? Obviously the fans who have read the book (which I guess we mostly) know that without doubt they must be Tanya, Irina and Kate . All blonde and beautiful course. Are you satisfied with your appearance?
In the book version of Breaking Dawn, she did not attend the wedding, but this picture clearly shows the ceremony or reception, it seems that will assist. This means that the story leads to betray the Cullen (Volturi tell on "Renesmee") is a little different than it was in the book. It should be interesting to see how it handles on the screen!
Bella and Edward breakfast in Isle Esme!
Another image from the honeymoon! Perhaps, "Bella is eating eggs?, Yes, I know what I mean. I'm sure at that time, baby Renesmee are hungry.
Jacob running in the rain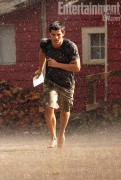 How I bet that this scene is one of the first? Is that I have a hunch that this is where Jacob receives the wedding invitation, runs, turns into a wolf and is lost for a while. , D
Bella and Edward in the waterfall!
 Summit lords sure know what we like to see! This is obviously the honeymoon, so we should not give many explanations for this picture, you just have to enjoy it. 
The boss, at last!
Well, not the entire herd, but they missed, and in my case (as a woman) to Leah, and she represents the feminine power these men closely. Able to say, more or less to that piece of film Pertec is difficult, but maybe this either when Bella is pregnant and the part where Jacob narrates the book.
Volturi!
The principal of this coven, Aro, and here I had to think hard to decide which part of the movie goes in the bottom right says: The leader Volturi, Aro, knows the future marriage of Bella and Edward.
Edward and Bella (Scared?)
This is the image that intrigues me most of all ..... Wow! Wait, maybe .... is ... Is it when Bella finds out she is pregnant, and Edward tells her not to worry that "they will get? and Bella thinks WHAT!! LIKE ME "WHAT WILL REMOVE">> ... Well, you as a good fan of the series, you know everything that happens in this episode