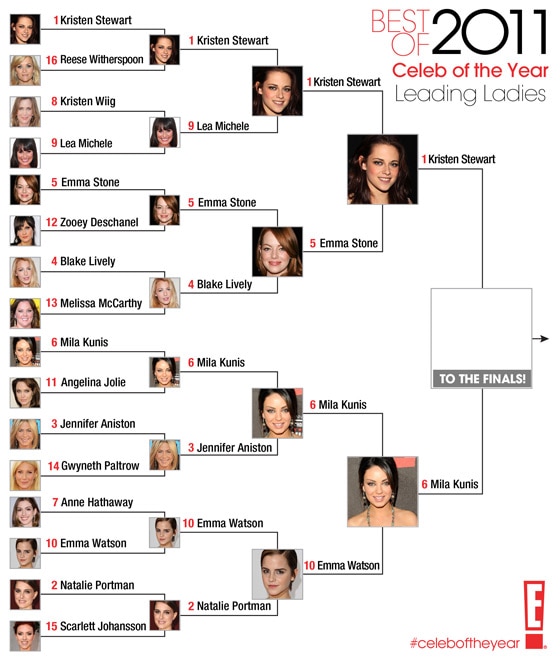 And then there were two. We're down to the final matchup in our Leading Ladies and the title of E! Celeb of the Year is potentially right around the corner for one of these two stars.
It was a round of blowouts and razor-thin wins, so who managed to hold out for one more round?
MORE: Don't see your fave star in our tournament? Tweet them in as a Wild Card
No. 1 seed Kristen Stewart continues her domination. She was matched up against No. 5 Emma Stone, whose year of Crazy, Stupid, Love, The Help and hanging out with spidey BF Andrew Garfield came to an end when K.Stew pulled in 74 percent of your votes. It was a good year for Emma and we're sure we'll see her back here again soon.
The other pairing wasn't as clean-cut. Black Swan star No. 6 Mila Kunis was up against Harry Potter's Emma Watson, No. 10, and things were close until the very end, but ultimately Mila slipped past Emma with a narrow 52 percent of the votes. But with Emma's star power, this is definitely not the last we'll hear from her.
Don't forget! There's a lot on the line as E! will donate $25,000 to the charity of the winner's choice, so be sure to vote! And if you don't see your favorite in our tournament, try to get them in as a Wild Card!
Celeb of the Year 2011: Leading Ladies, Round 4
PHOTOS: Check out all 64 original Celeb of the Year contestants