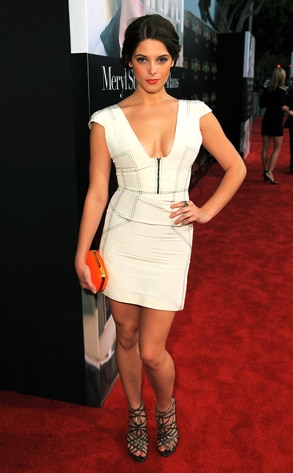 Instead of a traditional dress (boring!), Twilight starlet Ashley Greene wore a sausage casing to a special screening of Julie & Julia in Los Angeles this week.
We understand that the Cullen clan cutie needs to stay on the cutting edge of fashion, being a burgeoning starlet and all, but this harshly-cut Saran Wrap suit is more distracting than it is head-turning.
And her accessories only make the getup dicier: a chorizo-colored clutch, shoes that are about as sexy as meat hooks, and a pulled-back bun that belongs under a hairnet. You've got luscious lady locks, let 'em loose!
Now stay in the boutiques, Ash, and out of the butcher shop!
source